Huntley 158 Newsletter September 15th, 2022 ‌ ‌ ‌ ‌ ‌ ‌ ‌ ‌ ‌ ‌ ‌ ‌ ‌ ‌ ‌ ‌ ‌ ‌ ‌ ‌ ‌ ‌ ‌ ‌ ‌ ‌ ‌ ‌ ‌ ‌ ‌ ‌ ‌ ‌ ‌ ‌ ‌ ‌ ‌ ‌ ‌ ‌ ‌ ‌ ‌ ‌ ‌ ‌ ‌ ‌ ‌ ‌ ‌ ‌ ‌ ‌ ‌ ‌ ‌ ‌ ‌ ‌ ‌ ‌ ‌ ‌ ‌ ‌ ‌ ‌ ‌ ‌ ‌ ‌ ‌ ‌ ‌ ‌ ‌ ‌ ‌ ‌ ‌ ‌ ‌ ‌ ‌ ‌ ‌ ‌


At Huntley High School, students have the opportunity to engage with a wide range of coursework that allows them to engage with different subjects and discover their passions. In the Career and Technical Education (CTE) department, courses give students the unique opportunity to gain hands-on experience and explore industry or career pathways. The CTE department houses HHS' automotive courses and program, which has doubled in size over the last six years. Students can take classes such as Small Gas Engines and Autos Theory, which focus on experiential skills and one-of-a-kind learning opportunities.
With the addition of an automotive lift this year, donated to the program by Huntley 158's Education Foundation, students have an even greater opportunity to discover what a career in this industry has to offer, leveraging personalized learning opportunities to FIND THEIR DESTINATION after their time in Huntley 158. Take a look below to get an inside look inside Huntley 158's Autos program and what it offers for our students. You'll hear from students and staff as they showcase what they have learned and how this program continues to grow.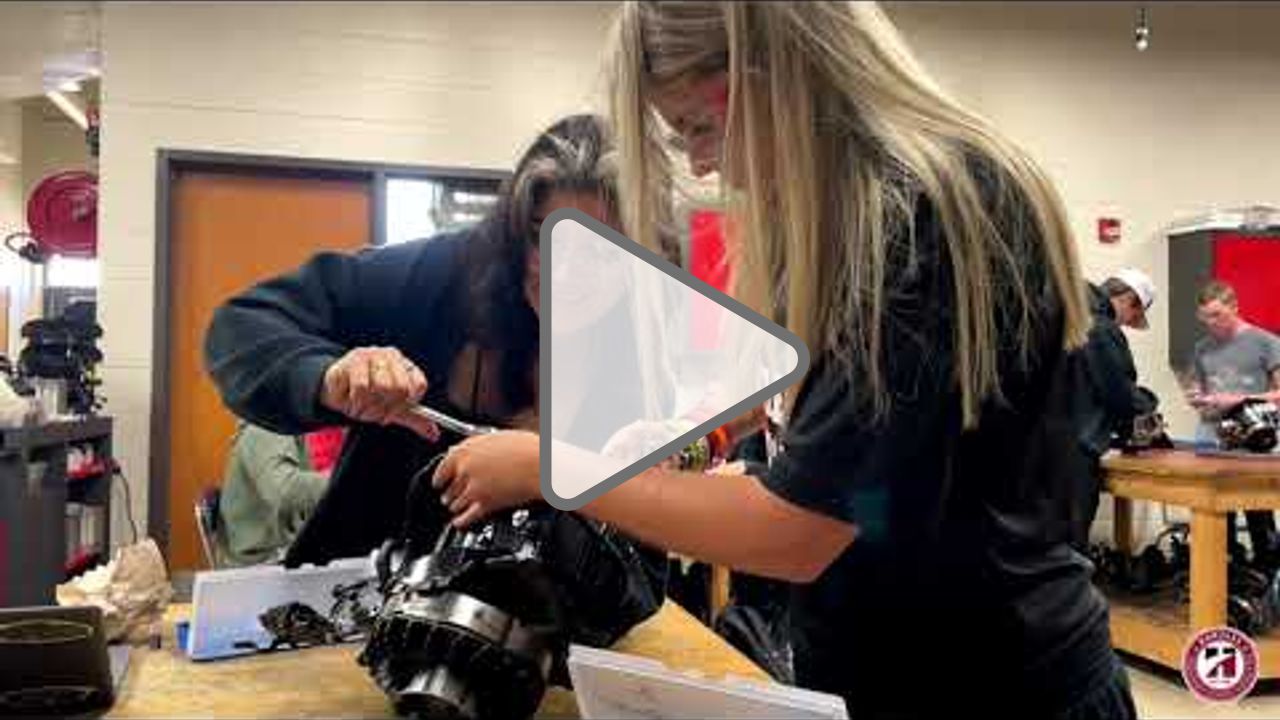 ---



Huntley High School is partnering with the Huntley 158 Education Foundation to raise awareness and funds in memory of the late Jennifer Heuck, a long-time educator and physical education department chair in Huntley 158 who lost her battle to breast cancer in the fall of 2021.
Through fundraising efforts during the month of October, the Huntley 158 community has worked to raise money to benefit a scholarship in Jennifer Heuck's name. The scholarship, which will be awarded by the Education Foundation, will go to a HHS student who has interest in the field of education.
On Friday, October 21, Huntley High School will be hosting a Friday Night Lights football game, dubbed as the annual 'Pink Out' game in honor of breast cancer awareness. Huntley High School's varsity football team will be facing Crystal Lake South High School with a dedication to Mrs. Heuck scheduled for 6:15 p.m. Heuck's family will also be in attendance at the game. Her daughters, Hannah Blakey and Emma Heuck, are both graduates of Crystal Lake South High School in Community High School District 155.
In order to honor the entire Heuck family, Huntley High School and Crystal Lake South High School teamed up ahead of the game to raise awareness and honor the victims of breast cancer. In an effort to commemorate Heuck's impact on Huntley High School since she began her teaching there in 1997, 'Pink Out' shirts have been designed in her honor and made available to Huntley High School and Crystal Lake South's school communities.
All students, parents and community members are invited to join in the celebration on October 21! Students and spectators who purchase a T-shirt ahead of time will receive free admission to the game at Huntley High School. All fans are encouraged to wear pink in support of breast cancer awareness and in celebration of Jennifer Heuck. We hope to see you there!
---


This month, Huntley 158's RAD Community Event, Keep Shining: The World Needs Your Light will be held on Wednesday, October 26 from 6:00-8:00 p.m. in celebration of Abilities and Inclusivity. This event will be held at Huntley High School and is FREE for all ages.
A wide variety of activities will be held in The Hub and the cafeteria at HHS, including presentations from our very own Huntley 158 students, D'Andre Chapman and Jessica Billy! Students and families will also have access to sensory activities and crafts, a student art gallery, performances from the Huntley Sparkles Cheer Team and Crystal Lake Kingpins, and some special speakers. Gigi's Playhouse, Canines 4 Comfort, the Northern Illinois Special Recreation Association (NISRA) and other local businesses will also be in attendance. You do not want to miss this event!
The goals of Recognizing American Diversity (RAD) are to recognize, celebrate, and discover diverse perspectives and identities that have historically been underrepresented. We work from the assumption that everyone benefits and grows from knowing more about one another.
Visit our website to see the calendar of engagement opportunities throughout the rest of October and more event details as we approach October 26. We hope you will celebrate with us!
---

We love seeing our schools become GREENER by the day! In an effort to plant 460 additional trees on Square Barn Road Campus, the Square Barn PTA has partnered with staff, students and families at Mackeben Elementary School and Conley Elementary School to found a project called 160-acre Woods, coined for the 160 acres that make up Square Barn Road campus. This month, a total of 18 new trees were planted right outside of each school's playground.
These saplings are an exciting first step towards the final goal and will continue to grow alongside our students. A special thank you goes out to the Square Barn PTA for their dedication to this project and generosity, as well as each of our families who made donations. Be sure to follow the Square Barn PTA on Facebook to stay up to date on their progress and opportunities to contribute to their goal.
---

Huntley School District 158 is excited to announce the 2022-2023 theatre season, SOMETHING OLD – SOMETHING NEW.
Main stage performances, held in the Huntley 158 Performing Arts Center at Huntley High School, will feature an array of old favorites combined with new titles. Find the entire season line up, ticket information, and more online at www.huntley158.org/pac.

| | |
| --- | --- |
| | Huntley Community School District 158 |