Huntley 158 Newsletter February 28, 2023 ‌ ‌ ‌ ‌ ‌ ‌ ‌ ‌ ‌ ‌ ‌ ‌ ‌ ‌ ‌ ‌ ‌ ‌ ‌ ‌ ‌ ‌ ‌ ‌ ‌ ‌ ‌ ‌ ‌ ‌ ‌ ‌ ‌ ‌ ‌ ‌ ‌ ‌ ‌ ‌ ‌ ‌ ‌ ‌ ‌ ‌ ‌ ‌ ‌ ‌ ‌ ‌ ‌ ‌ ‌ ‌ ‌ ‌ ‌ ‌ ‌ ‌ ‌ ‌ ‌ ‌ ‌ ‌ ‌ ‌ ‌ ‌ ‌ ‌ ‌ ‌ ‌ ‌ ‌ ‌ ‌ ‌ ‌ ‌ ‌ ‌ ‌ ‌ ‌ ‌


Dear Huntley 158 parents & families,
I hope this newsletter finds our Huntley 158 families well. It is hard to believe we are knocking on the door of March 2023, but I am eager to share the news and highlights in this month's newsletter with all of you. Our students and staff continue to give us reasons to celebrate the learning happening all across our district. As you know, this year has seen Huntley 158 place a strategic emphasis on our students' college and career readiness. Through the implementation of the SchooLinks platform, partnerships with our industry representatives across Huntley and the greater McHenry County area, and hands-on learning opportunities, we continue to work hard to provide students with the tools necessary to find their destination after high school.
In pursuit of this goal, I would like to share with you all a unique opportunity that was provided to Huntley High School students in partnership with Huntley 158's partners in solar energy, Forefront Power. In addition to the many benefits of solar energy, including the nearly $220,000 annual savings and benefits to our environment, our district's long-standing partnership with the solar energy industry allows for our campuses to become real-life learning labs. This winter, a group of high school students were provided the opportunity to work with licensed electricians from IBEW (International Brotherhood of Electrical Workers) to install solar panels atop a shed constructed entirely by students in HHS' Geometry in Construction class. Students were provided the opportunity to not only work alongside professionals in the trades, but were able to contribute to each stage of the installation process from start to finish. In order to see this learning opportunity come to life, take a look at the video below. We are thrilled to be able to offer our students access to an educational environment where these experiences can become a reality.
As always, thank you for your support of our efforts to help students across all grade levels #FindYourDestination as modern day learners. I encourage you to watch the video below and browse the rest of this newsletter to join us in celebrating all of the good happening in Huntley 158.
Sincerely,
Scott Rowe, Ed.D.
Superintendent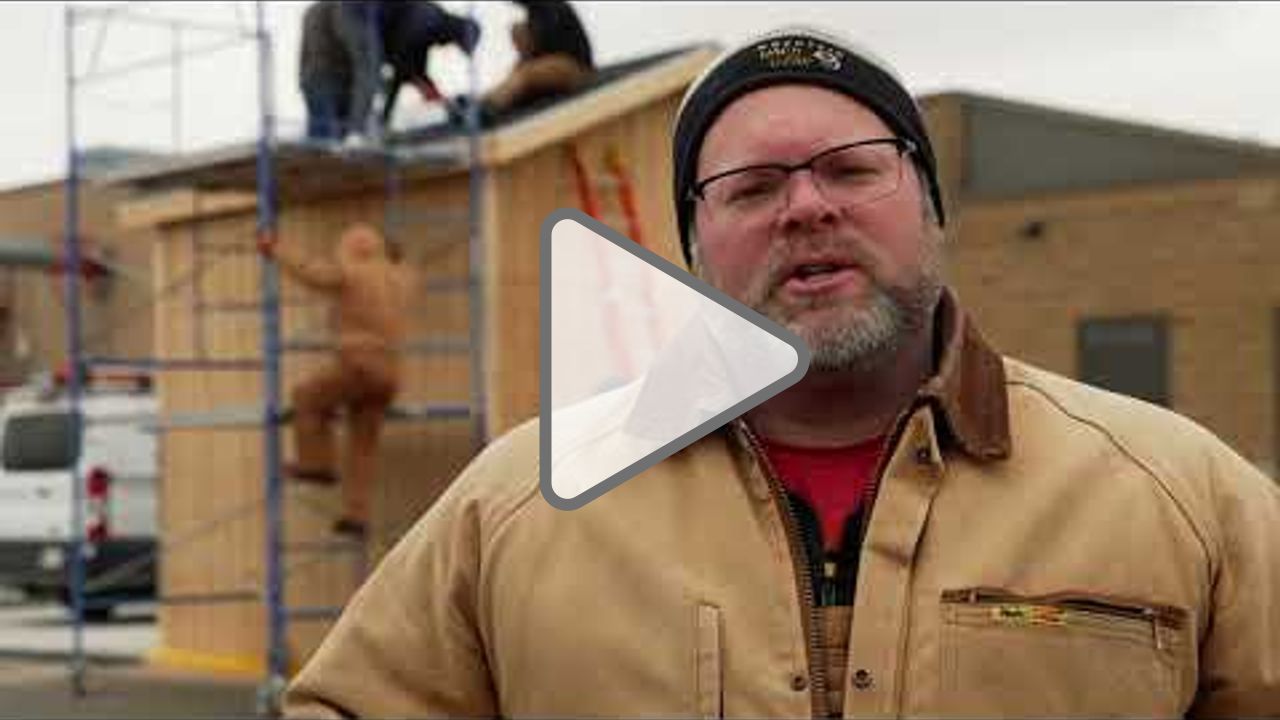 Are you ready for the #BattleoftheBald?! Huntley is once again partnering with St. Baldrick's, an organization committed to conquering childhood cancer, to host a special 2-day community event! Save the dates below and consider joining us to support families in need across the community. All students, parents and community members are welcome! REGISTER to become a SHAVEE, form a team of SHAVEES, or purchase event SWAG to help us raise funds for cancer research!
"BATTLE OF THE BALD": A 2-Day Community Event

Friday, March 3, 2023 | 3:30 p.m. – 7:00 p.m.
Marlowe Middle School
9625 Haligus Road
Lake in the Hills, IL
Saturday, March 4, 2023 | 3:00 p.m. – 9:00 p.m.
Pinecrest Golf Club
11220 W. Algonquin Road
Huntley, IL
Event merchandise will be available for purchase at Huntley 158 schools this week. Make sure to grab yours in time for Friday's event at Marlowe Middle School!

RAD's next community event will take place on Saturday, March 11 from 10:00 a.m. – 1:00 p.m. at Marlowe Middle School. Our celebration will include free admission for students and community members of all ages. This will be a time to celebrate Women's History Month; through this showcase, we hope to empower women by highlighting leadership in business, advocacy in wellness, and supports in our community. Come out to support local businesses owned by women and learn about community programs for young girls. As the date gets closer, the event schedule and details will be posted on our website: https://huntley158.org/rad/
The goals of Huntley 158's Recognizing American Diversity (RAD) initiative are to recognize, celebrate and discover diverse perspectives and identities that have historically been underrepresented. Each month, we host one community event that celebrates diverse voices and provides us with opportunities to discover more about the community and cultures all around us. You can learn more about the Recognizing American Diversity initiative and monthly events by visiting our website here. We also invite you to follow #RADat158 on social media on Facebook (Huntley RAD), Twitter (@RADatHHS), and Instagram (@RADat158).
---


Congratulations to the Huntley High School Cheer team for their 2nd place finish at the IHSA State finals. On February 4, the team finished out their season as the State runner ups in the large co-ed division. Way to go, Red Raiders!

This year, leaders from across community organizations, including the Huntley Police Department, Village of Huntley, Huntley Area Fire Protection District, Huntley Park District, Huntley Area Public Library and Huntley 158 joined forces at Huntley High School to present on the annual state of our community. Alongside Dr. Rowe, these figures in our community presented on the status of our community initiatives, areas of growth and the future of Huntley. Thank you to the Huntley Chamber of Commerce for organizing this event and to its many members for attending in support of our community's well being.

This February, Huntley 158 students partnered with Congressman Bill Foster and Congressman Raja Krishnamoorthi, who represent Illinois' 8th and 11th congressional districts, to create hundreds of Valentines Day cards for Veterans across our community. In keeping with this annual tradition, the cards, filled with messages of kindness, appreciation and gratitude, were shared with Veterans across the community in honor of the holiday. Thank you to Congressmen Foster and Krishnamoorthi for making these deliveries to our local heroes and a very special thank you to our students for participating in this effort!

Marlowe Middle School's Jeralynn Gosser was recognized by Star 105.5 in McHenry County and Home State Bank as the January Teacher of the Month! Mrs. Gosser, who teachers 8th grade literacy, was nominated by one of her former students who wanted her positive attitude and interactive lessons to be recognized by everyone. Thank you to Mrs. Gosser for her continued dedication and care for students at Marlowe.

Congratulations to two of our school nurses, Donna Kunz from Huntley High School and Dawn Ruffatti from Conley Elementary School, who were awarded the Lina Rogers award by the McHenry County School Nurse Advisory Committee. The Lina Rogers award is presented yearly by the McHenry County Department of Health to those who have demonstrated excellence in school nursing. Both Donna Kunz and Dawn Ruffati were recognized for their work on the School Nurse Committee. The committee's work, which provided leadership and guidance to nurses all across McHenry County, was published in the National Association of School Nurses Journal and was presented at the McHenry County School Health Symposium held on February 10. Thank you to our entire nursing staff for your continued leadership and dedication to the health of our students and community.
---

During these months of winter weather, we would like to thank our outstanding bus drivers and transportation staff for their daily commitment to getting our students to and from school safely. As we work our way through the final weeks and months of a midwestern winter, please take a moment to visit our website and review the district's process for declaring a school closure or E-Learning Day due to inclement weather. Students and families can also find E-Learning Day expectations for all grade levels on our website at the link below. In the meantime, be sure to say thank you to your bus drivers for their dedication and hard work!
---

Earlier this month, Huntley 158 distributed the Illinois 5Essentials Survey to all parents/guardians, students, and teachers. The 5Essentials survey is a statewide effort by the Illinois State Board of Education (ISBE) to gauge school climate and learning conditions in Illinois schools. The survey will be administered online by UChicago Impact at the University of Chicago and provides a unique opportunity for students, teachers and parents to have a voice in improving their schools. We ask that you please take some time to fill out this survey HERE prior to March 24, 2023. The District is mandated to conduct a survey of school learning conditions every year, and your participation in this effort is critical!
Your participation in the parent portion of the survey will help us understand the conditions at your child's school and guide improvement. Your identity and survey responses will be kept completely confidential and will never be connected to you or your child. Feedback from the tool will be shared in reports to schools and will be reported publicly on the State School Report Card website in Fall 2023.
Please note: Parents/guardians with more than one child in Huntley 158 schools must take the survey for each child. The survey is available in English and Spanish and is estimated to take about 10 minutes. If you have questions, please check the ISBE website or email your building principal.
---
| | |
| --- | --- |
| | Huntley Community School District 158 |